Sigma Stainless Steel Pot 1.2L
Regular price

Rs. 2,967.30

Regular price

Rs. 4,239.00

Sale price

Rs. 2,967.30

Unit price

per
Highlights
BEST USE: Backpacking
PERFECT FOR: 1 Person
WEIGHT: 7.6 oz | 214g
COOKWARE MATERIAL: Marine grade stainless steel pot and lid, stainless steel silicone grip handle
DESCRIPTION
Engineered with premium marine grade stainless steel, the Sigma Pot provides long-lasting durability and performance to your outdoor kitchen.

Designed for compact packing and convenient handling, it features a Pivot-Lock handle that securely locks into place during use and locks away when stored. Other features include a unique slotted strainer pattern for easy flow, a silicone Lid Keep which hooks to the side of the pot when cooking, and a base which provides better heat absorption and stability on camp stoves.

Delta Light dinnerware is compatible with Sigma Pots and nests inside to create a compact and comprehensive camp kitchen set.
Features
Marine-grade stainless steel for durability.
Patent-pending Pivot-Lock handle with safety lock for secure and easy operation.
Large internal radius between base and sidewall makes the pot easy to clean.
Easy flow strainer lid for efficient draining.
Graded volumetric scale is featured on the side of the pot for easy measurement.
Anti-slip base coating provides stability on camp stoves.
TECH SPECS
Best Use

Camping, Backpacking, Mountaineering, Bike Touring, Overland

Cookware Material

Marine-grade stainless steel

Special

Sigma Pots have strainer lids and Pivot-Lock handles
1.2 liter
1.9 liter
2.7 liter
Dimensions

144 x 96 mm

165 x 120 mm

182 x 120 mm

Volume

40.6 oz

64.2 oz

91.3 oz

Weight

7.6 oz

214g

10.9 oz

308g

370g
TECHNICAL FEATURES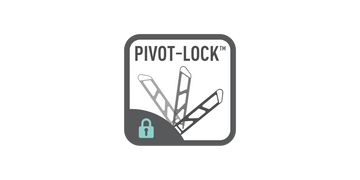 PIVOT-LOCK HANDLE
Frequently Asked questions
Can the cookware be used with an induction stove?

No. Induction stoves require pots made of a magnetic material.
Can this be used over an open fire?

No, the cookware is not not designed for use over an open fire. The silicone-rubber grip of the handle and the polymer handle thumb latch could be damaged by the heat of a fire oor contact with flames.
Can this cookware be used with a domestic stove?

Domestic stoves have a much higher output than backpacking stoves. If used with a home stove, the flame setting should be kept low, and care should be taken to ensure that the pot does not boil dry.
Can my Sigma Pot nest into larger Sigma Pots?

Smaller Sigma Pots are designed to nest with larger Sigma Pots, dependent upon the volume of each Pot.
Is it dishwasher-safe?

No, the Sigma Pot is not dishwasher safe. The handle pivot is made of anodized aluminum which would be damaged by the caustic cleanser used in dishwashers.