Regular price

Rs. 1,285.62

Regular price

Sale price

Rs. 1,285.62

Unit price

per
DESCRIPTION
The Ultra-Sil Shopping Bag is a small, reusable bag made of the same strong fabric we make our pack covers, compression sacks and stuff sacks from, so it's amazingly robust and durable. The stress points also have bar-tacked reinforced stitching so it can be filled to capacity week in, week out and still perform like new. And because the Ultra-Sil Shopping Bag is so compact and lightweight, you can stash it anywhere - it clips easily onto a key ring with the attached carabiner or it can tuck into a purse or a jacket pocket, so it's never out of reach.
Features
The Travelling Light TSA Travel Lock is TSA approved, which means your luggage will easily go through airport security and arrive at your destination locked and secure. Conversely, using non-approved locks may result in them being cut off, or worse, your zip sliders cut off. TSA Travel locks are made in three versions: combination lock, combination cable lock and key card lock.
Features
Transportation Security Administration (TSA) approved
Travel Sentry Red Diamond Icon (alerting TSA they can open this lock)
Lightweight
Lock Options
Three-dial Combination Lock: Perfect for lockable zip sliders and joining most double-pull zips
Combination Cable Lock: Adds versatility for oversize zips or unusual closures and keeping several bags together.
Key Card Lock: A very lightweight lock with cable which uses a credit card and key-ring sized key-cards you keep in your wallet or travel documents.
TECH SPECS
Cardkey with Cable
Weight

1.3 oz |

36 g
TECHNICAL FEATURES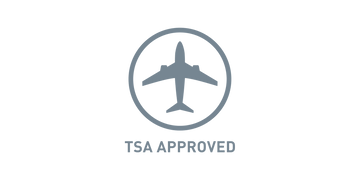 TSA CARRY-ON COMPLIANT
Frequently Asked questions
Will the lock completely secure a bag?

Unfortunately, truly determined thieves will slash zippers to open a bag. But locks do deter more opportunistic thieves.
Is it configurable to one cardkey?

The cardkey locks each have their own individual pattern.
Is the lock lightweight enough for travel?

Yes. Each lock weighs less than 1.6 oz / 50g - insignificant on checked baggage.